---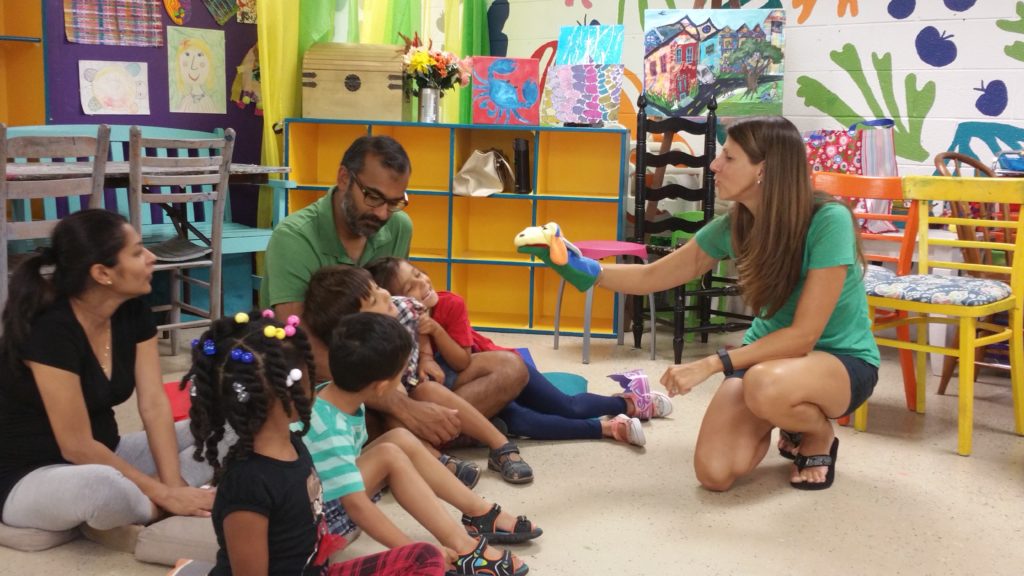 Here's what some TSC families have to say about our program:
"The Spanish Corner has become one of our favorite things to do as a family! What better way to spend quality time together than to show our children the importance of learning a language while having fun doing it! The enthusiasm and energy every week is amazing! The interactive play and songs are not only fun and exciting, but the perfect way to engage the little ones and help them to really learn.  I constantly catch the girls singing and repeating the songs and chants throughout our days, whether it be waking up in the morning, counting the steps we take to the car, or driving to school.  It has been a blast watching my girls show so much interest in learning Spanish not only in the class but at home in our own Spanish Corner.  Thank you for bringing the joy of learning Spanish to our family!!" –Megan D.
"My 3 year old son's face lights up every time we mention The Spanish Corner. He loves the songs and games we get to play and I enjoy the time we spend together. It's been so amazing to see him learn and grow confident and inspired." –Velina G.
"This is our third session with The Spanish Corner and we love it! My daughter and I often sing the songs in the car or around the house. We can't wait to come each week to learn more Spanish." –Jenny T.
"We've had so much fun with The Spanish Corner classes for our 3.5 year old toddler! We sing and dance to the catchy tunes at home (helped along by the video links we get after each class) and it's easy to do vocabulary review while we are out and about and having fun. We can't wait for the next session! " –Alice L.
"Thank you so much to The Spanish Corner. You have created an amazing Spanish speaking journey for our two little boys.  The songs, classes, and tutorials are taught in an age appropriate, fun, creative manner and I love that the boys are learning and speaking Spanish. Just yesterday I heard the boys having a quick conversation in Spanish.  My jaw dropped and I smiled with glee. You have created an excellent Spanish Corner and implemented a wonderful environment for them to learn a second language. Thank you for teaching the boys such a beautiful language!" — Cindy B.