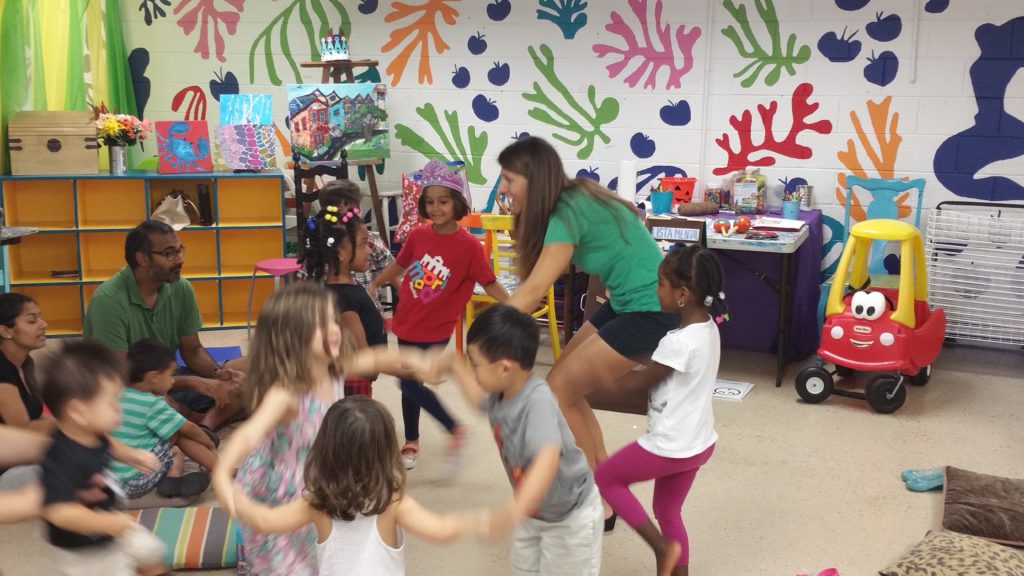 So you want your child to learn Spanish! And you're wondering if TSC classes are the right fit? Check out our Frequently Asked Questions about The Spanish Corner:
Is my child the right age? Most TSC children are between the ages of 3-8. If you feel that your child can participate well according to the following guidelines, then please register!
Children need to:
Have the attention span for 45 minutes of "circle time" activities.

Not wander into the middle of the circle or around the classroom during the lesson.

Be able to give props back to the instructor or "trade" items easily with other students during the lesson.
Do I drop my child off or stay? TSC classes are designed so that children and their family members can all participate together. Unless there is a reason why you feel your child would do better without you there, we recommend that at least one family member be present and participate.
Where are classes held? We currently offer TSC classes at three locations (locations may vary depending on session):
Wild @ Art Studio in Five Points Area of Raleigh (across from Roanoke Park)
Hope Church's Apex Campus in Cary/Apex
We are currently working on launching Durham classes. Stay tuned!
My child has a younger sibling. Can I bring the baby? Yes! Siblings under two years can come with you free of charge. If the younger sibling need a "break," you are encouraged to take him/her into another area of the building and leave your TSC child with us in the circle.
Why should at least one family member attend class? TSC curriculum is designed so that children and adults are learning Spanish together. If you're invested in learning Spanish, your child is more likely to be, too! In addition, because you'll be learning alongside your child, practice will be easier outside of class. Take-home materials are provided and families are encouraged to carve out small pockets of time each day in which they can practice what they have learned in class.
Does my child need to know any Spanish before enrolling? Nope! True beginners and children with some previous Spanish knowledge will all enjoy and participate in the lessons at the same rate.
Why should we enroll? TSC classes will provide your child with the building blocks for later fluency and access to countless opportunities as s/he matures. Spanish is the second most-spoken language in both the U.S. and around the world. It is also the most commonly taught second language in school. Give your child an academic and cultural advantage!

Will my child be fluent from TSC classes? No. However, the level of his/her proficiency will depend on both the length of continued enrollment and on how much the family takes advantage of the supplemental materials provided for take-home practice. It is recommended that families spend time every day implementing the practice strategies provided, as well as just singing the songs together.

What will my child be able to do after taking TSC classes? Your child will have a Spanish language foundation upon which s/he can build. Children will be proficient with the following:
Greetings

Names (asking/answering)

Emotions (asking/answering)

Numbers 1-10

Colors

Farewells

Following basic commands/instructions such as:

run, jump, walk, sleep, sit, stand, fly, eat, drink, come here, go back, repeat, put, give, take, hug, kiss, say/ask, line up, and more.

Loads of words/expressions from current unit as well as recycled material from older units

Turn-taking/passing items

Expressions of courtesy
What is your make-up policy for missed classes? Do you offer a refund? If you miss a class, you can make it up during one of the other scheduled class meetings (either that same week or at some point during the session). See the classes tab for the schedule and alternate locations. Please email (kate@thespanishcorner.org) ahead of time if you plan to do this so that we can plan accordingly. **Please note that no refunds will be given.**
What is your inclement weather policy? 
If class is cancelled due to inclement weather, TSC will schedule an alternate make-up option in its place. **Please note that no refunds will be given.**
In addition to the at-home resources and videos provided to families, what else can I do to practice Spanish with my child outside of class? As you know, our city is filled with Spanish speakers! Take advantage of this. Go out to eat a local Latino restaurant and engage the wait staff in conversation! Say "hola" to Spanish speakers you encounter during errands. Encourage your children to seek out Spanish-speaking peers–at school, at your place of worship, in your neighborhood, at other classes, at the park–and work to create a friendship! One family has actively pursued a friendship with their Mexican neighbors since starting TSC classes and watched it bloom during weekly dinner/game nights in which they practice Spanish and learn about their friends' customs, foods, and traditions! Check out our Pinterest page as well for some ideas!
My question wasn't answered here! What should I do? Contact Kate! Phone: 919-656-1992 or Email: kate@thespanishcorner.org. 
To learn more about TSC, check out this article or read what some families have to say!